The 2012 Alabama–West Florida Annual Conference was held June 3-6 in Mobile, AL with the theme, "Partnership in the Gospel....Serving the World." Bishop Paul L. Leeland, presiding over his fourth annual conference session since becoming the resident bishop, welcomed clergy and lay members to Christ UMC in Mobile.
Prior to this year's conference, Bishop Leeland urged the churches of the conference to receive a special offering for Imagine No Malaria. The people of the AWF Conference responded by contributing over $54,000. The offering collected at the commissioning and ordination service for the Ministerial Education Fund collected over $1,600.
The 2012 Annual Conference session was opened on June 3 with hundreds from throughout the conference gathering for worship. Dr. Belton Joyner delivered the sermon, "What Color was the Carpet" based on Philippians 1:3-5, asking attendees if partnership was the same as being in agreement. He said, "Partnership in the gospel is not about being in agreement, or already being in perfection, but about serving the world and in one another, and thus, serving God." A combined worship band provided inspiring music for the service including a moving rendition of, "Holy, Holy, Holy."
One deacon and two elders were ordained as members in full connection, and one provisional deacon and eleven provisional elders were commissioned on the evening of June 4 at
Dauphin Way UMC
. It also included the ordination of one being recognized from another denomination. Prior to the start of the service, the chancel choir, chancel ringers, brass quintet and men's ensemble of Dauphin Way UMC presented worshipful music led by John Ricketts.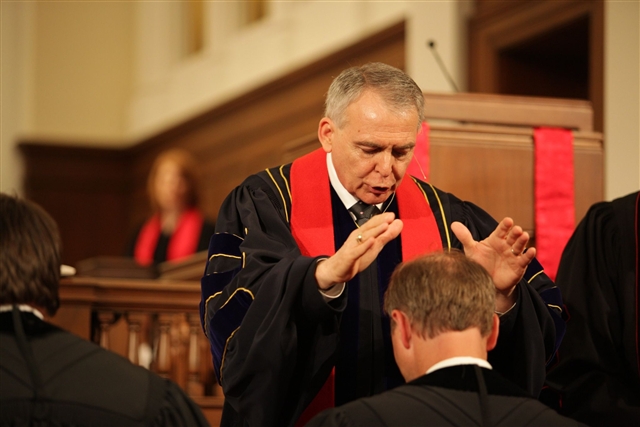 Twenty-seven clergy and clergy spouses who died in the past year were remembered during a Service of Commemoration and Holy Communion.
Dr. George Mathison
delivered the sermon, "The Hall of Saints." An overflow crowd remembered those that have given many years of service to the conference. Surviving family members were hosted at a special luncheon by the AWF Commission on Archives and History.
Twenty-seven clergy retiring this conference year were honored on Monday, June 4. Together, they represent 502 years of combined service to the United Methodist Church.
Rev. Fred Zeigler
spoke on behalf of the retiring class, passing the torch to
Rev. Patsy Winford Gibson
. Patsy represented the 2012 class of ordinands.
The Conference was honored and blessed by the outstanding leadership of several guest speakers. Coach Mike Gottfried, former football player and coach and EPSN color analyst, gave the fourth annual "Mary Ellen Bullard Leadership Address" during Tuesday's Laity Banquet.
Dr. Ben Witherington
, Professor of New Testament for Doctoral Studies at Asbury Theological Seminary, led the conference in two morning Bible studies.
Dr. Dana L. Robert
, Truman Collins Professor of World Christianity and History of Mission and co-director at the Center for Global Christianity and Mission; Boston University School of Theology, led two teaching sessions.
Dr. Shirley Woodie, AWF Conference Secretary, was recognized by Bishop and Mrs. Paul Leeland for her outstanding leadership in our conference. Dr. Woodie will retire from her duties as conference secretary but will remain active in the conference.
The clergy appointments for 2012-2013 may be found online here.
A compelling addition to this year's conference was the showing of eight district videos at the beginning of various sessions that informed the conference about fruitful activities going on within each district. Each district superintendent presented this information about their respective district.
The conference also participated in an UMCOR relief kit drive yielding more than 1.275 relief kits.
The 2013 budget was established at $11.131 million for mission and ministry, down 2.61% from 2012.
Membership stands at 146,782, down less than 1% from the previous year. Worship attendance stands at 66,145, down 2%. Church school attendance stands at 28,131, down 2%. Small groups showed an increase: there was a 38% increase in persons in covenant discipleship groups, 6% increase in short-term classes for learning of all ages and mission teams showed increases in all categories.
The 2013 session of the AWF Annual Conference will be held June 2-5, 2013, at Christ United Methodist Church in Mobile, AL. We express our sincere appreciation to the Christ United Methodist Church Leadership Team and Rev. Jeff Spiller for their hospitality during this year's annual conference.
A downloadable pdf recap that can be used in your Sunday church bulletins can be found
here
. Full coverage of the 2012 AWF Annual Conference may be found at
www.awfumc.org/ac2012
. To see photos taken by Luke Lucas, click
here
.