Annual Conference 2010 Daily Digest - June 9
Partnership in the Gospel: Nurturing Disciples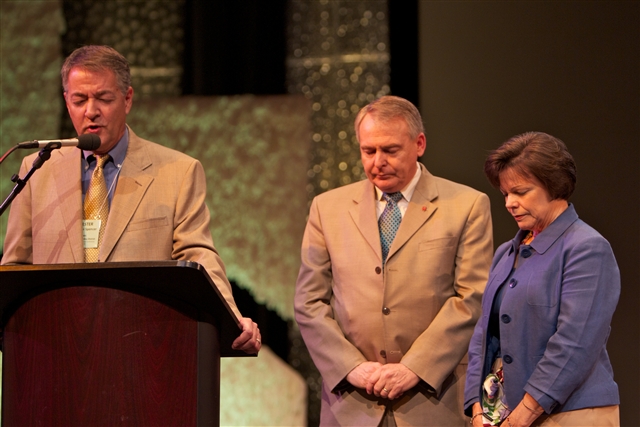 Rev. Lester Spencer, chair of the AWF Conference Committee on Episcopacy, offers a prayer for Bishop & Mrs. Leeland.
News to Note
Full Recap and Bulletin Insert coming this Friday! Keep tuned to www.awfumc.org/ac2010 for an informative bulletin insert you can print out to share with your local church this Sunday! An full recap article detailing all actions of the conference will also be posted.
2010-2011 AWF Conference Clergy Appointment Book: The clergy appointments have been fixed and may be found online here.
Did You Miss One? Click here to view each of the daily e-mails sent during the 2010 Annual Conference session.
2011 Annual Conference set: The 2011 session of the AWF Annual Conference will be held June 5-8 at Frazer UMC in Montgomery, Ala.
Nurturing Video: Three AWF Conference churches were profiled this week in a video showcasing how they are nurturing disciples. Look for in-depth video profiles from each of these churches coming in July!
Gulf Oil Spill Update: Rev. Neil McDavid, Director of Connectional Ministries, has invited churches in the AWF Conference to contact him if they would like to partner with a church in the area directly affected by the Gulf of Mexico oil spill. These partner churches will provide prayer support for those dealing with circumstances surrounding environmental and economic stress as a result of the spill.
Visit www.awfumc.org/oilspill for helpful information regarding the oil spill in the Gulf of Mexico, including information on how to initiate the BP claims process. Churches are encouraged to share this information with those in their community who have experienced diminished resources (careers in tourism, fishing, etc.) as a result of the spill. Contact Amelia Fletcher, AWF Conference Disaster Response Coordinator, for more ideas on how churches may be involved in the response effort.
CCPI Offering Update: Frank Dunnewind reported that the special mission offering for the Central Conference Pension Initiative has now totaled over $49,000 and additional contributions are still coming in. Thank you!
UMCOR Kit Drive Numbers: Fifty-three churches participated in the UMCOR kit drive yielding 2,375 kits headed for Haiti. Thank you! Churches also provided funds to cover shipping costs and numerous bulk supplies.

WalkingWorks: If you are a participant in the AWF Conference's BC/BS Health Insurance program, don't forget to register to be a part of the new WalkingWorks program - the challenge begins July 4 and you must register by July 2.
Get a Copy: DVD copies of many segments of the Annual Conference session are available for purchase. Click here for an order form.
Multimedia
Photos
View photographs from the 2010 Annual Conference session
Videos
Watch videos related to the 2010 Annual Conference session. **Videos of conference segments will be available online in the coming days!
Social Media
Follow the action of the conference live at www.twitter.com/awfumc and www.facebook.com/awfumc

Watch for a full recap of the 2010 Annual Conference at www.awfumc.org/ac2010